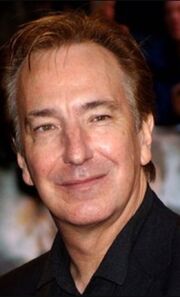 Alan Sidney Patrick Rickman
(February 21, 1946 - January 14, 2016) was a British actor and director known for playing a variety of roles on stage and on screen, including his roles as Hans Gruber in "Die Hard", and as Severus Snape in the "Harry Potter" film series.
In August 2015, Rickman suffered a minor stroke which led to the diagnosis of pancreatic cancer. He concealed the fact that he was terminally ill from all but his closest confidants.
On January 14, 2016, Rickman died in a London hospital, surrounded by friends and relatives.
Tributes from Rickman's co-stars and contemporaries appeared on social media following the announcement; since his cancer was not publicly known, some—like Ralph Fiennes, who "cannot believe he is gone", and Jason Isaacs, who was "sidestepped by the awful news"—expressed their surprise. Harry Potter creator J. K. Rowling called Rickman "a magnificent actor and a wonderful man". Emma Watson wrote, "I feel so lucky to have worked and spent time with such a special man and actor. I'll really miss our conversations". Daniel Radcliffe appreciated his loyalty and support. "I'm pretty sure he came and saw everything I ever did on stage both in London and New York. He didn't have to do that".
His final film part, as the voice of the Blue Caterpillar in "Alice Through the Looking Glass" will be released in May 2016.