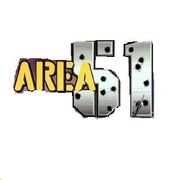 Area 51
is a 1984 science fiction thriller film about a swarm of zombie-like and killer monstrous aliens that invade an army base in Las Vegas, Nevada and try to eliminate every last soldier at the base and take over the rest of the land for their own. A light gun arcade game adaption was developed by Midway and Atari Games. A made-for-television remake of the film was later made and had premiered on the Syfy channel on February 26, 2011.
Area 51

Directed by

Joseph Ruben

Produced by

Joseph Ruben
Bill Rarick

Starring

Steve Railsback
Michael Hasbro
Danny Glover
Catherine Sampson


Music by

Ben Drakeson


Studio

Base Edge Studio

Distributed by

Warner Bros.

Release Date

October 5, 1984

Running time

98 minutes

Language

English

Followed by
Community content is available under
CC-BY-SA
unless otherwise noted.