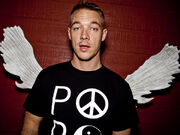 Thomas Wesley Pentz (November 10, 1978 - December 18, 2014), better known by his stage name Diplo, was a disc jockey.
On December 18, 2014, Pentz was shot and killed while visiting a friend's house in Bel Air, Los Angeles, California during what was initally believed to be a home invasion robbery gone bad. The suspect managed to breach the front door by ringing the doorbell and forcing his way inside by holding the owner of the house at gunpoint after opening the front door to acknowledge the person at the doorstep. Witnesses told police the suspect was wearing a ski mask and armed with a 12 gauge shotgun. After forcing his way inside, the gunman ordered everybody inside the house to neal down on their knees. During the incident, the gunman demanded for large amounts of cash hidden within the house. Witnesses inside the house described the man as a very irate individual, and continuously threatened to kill everybody in the buliding. While the owner of the house went to collect some of his hidden money, the gunman proceded to show his power by taking aim at Pentz and shooting him in the chest, causing him to fall face down to the floor. The gunman took aim again and shot Pentz in the head, killing him. After the raid, the gunman took off and warned everybody not to follow him.
Three days later, 32-year-old Louis Greystone was arrested from his home in Boston, Massachusetts after police received an anonymous tip pointing to Greystone as the murder suspect in both Diplo's murder, as well as the murder of singer John Mayer that same day. It was revealed by Greystone himself that Mayer and Pentz were both targets for execution.