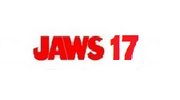 Jaws 17
is a 2013 horror/thriller film about the investigation of a series of bizzare shark attacks near Myrtle Beach, South Carolina that begin to occur after DEA agents discover three drug lords dead from being devoured by the sharks at the wharf of a drug warehouse near the coastline during a raid attempt by the DEA at the drug warehouse. This was the third film in the "Jaws" franchise to be Rated R in the United States as given by the MPAA. The film was released theatrically on October 18, 2013.
Jaws 17

Directed by

Max Spielberg

Produced by

Steven Spielberg
Max Spielberg

Starring

Jeff Fitchland
Allan Rourke
Marty Grabstein
Taylor Barker
Serena Ivans
H. Jon Benjamin

Music by

Chase Evans

Distributed by

Universal Studios

Release Date

October 18, 2013

Running time

126 minutes

Language

English

Preceded by

Followed by
Trivia
Marty Grabstein, the actor who portrays DEA agent James Dickison in the film, was the voice actor for the main cannine character in the animated series "Courage the Cowardly Dog".
Home Media
The film was released to DVD and Blu-ray Disc on February 11, 2014.