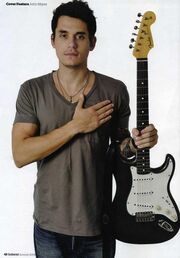 John Clayton Mayer (October 16, 1977 - December 18, 2014) was a singer and songwriter known for his Grammy Award winning music and songs such as "Your Body is a Wonderland", "No Such Thing", "Waiting on the World to Change", "Half of my Heart", "Gravity", and "Slow Dancing in a Burning Room".
On December 18, 2014 at approximately 5:30 p.m., John Mayer was shot and killed while entering the United Artists Theater at the Ace Hotel in Los Angeles, California. He was 37 years old. First responders had arrived to the scene following the shooting, but was unable to revive the singer due to the fact he had been shot three times in the head. According to witnesses, the shooter immediately fled the scene after publicly executing Mayer. The singer's death is believed to be part of a celebrity triple murder, and that those killed also include actor Justin Long and DJ artist Diplo. The murder investigation currently remains active.
On December 21, 2014, a 32-year-old man named Louis Greystone was arrested at his Boston, Massachusetts home in connection with Mayer's murder. Authorities issued a warrant for his arrest after receiving an anonymous tip reported to the LAPD.
John Mayer made a cameo appearance performing music for a bachelor party in the comedy film "Get Hard", released three months after his death. The film is dedicated in his memory.