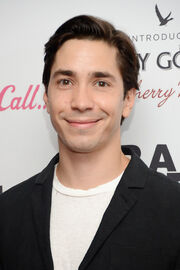 Justin Jacob Long (June 2, 1978 - December 18, 2014) was an actor known for his roles in several different films, including "Galaxy Quest", "Jeepers Creepers", "Live Free or Die Hard", the voice of Alvin in the live-action film "Alvin and the Chipmunks" and it's sequels, "Walking with Dinosaurs", and "Tusk".
On December 18, 2014, Justin Long was shot and killed in the parking lot of a local bar and pub in Henderson, Nevada. His body was discovered by a man that just recently left the bar to go home. He was 36 years old. Long's death is believed to be part of a celebrity triple murder, as those killed also include singer John Mayer and DJ artist Diplo, both of whom were shot and killed in California just minutes apart.
The perpetrator in Long's murder was identified as 38-year-old Michael Wardman, a banker and resident of Boston, Massachusetts. On December 29, 2014 when authorities attempted to apprehend Wardman, he engaged in a shootout with police in which Wardman was killed. He had been identified as an accomplice of accused killer Louis Greystone, who was arrested after Police received an anonymous tip stating that Greystone was responsible for the murder of John Mayer. During an interrogation, Greystone revealed Wardman was not only a friend of his, but that he was his accomplice in the triple celebrity murder they committed.
Long's final film, "Alvin and the Chipmunks: The Road Chip", was released on December 18, 2015, exactly one year following his death. The film is dedicated in his memory. Three of his other upcoming posthumous films also include the last two installments in director Kevin Smith's "True North" trilogy, "Yoga Hosers" and "Moose Jaws", as well as Kevin Smith's upcoming holiday horror film "Anti-Claus". While Yoga Hosers was his last completed film, a stunt double was used to complete Justin Long's unfinished roles in Moose Jaws. Another stunt double will be used to finish most of his roles in "Anti-Claus", which was in development at the time of his murder.