Kevin Joseph Santos
(born April 22, 1994) is a young hero from Dracut,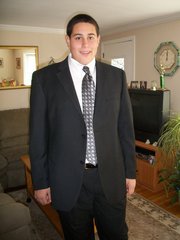 Massachusetts known for being one of the most famous and well-known young "superheroes" on Earth after protecting the human race from danger during the
Mean Teacher Tragedy
disaster on June 22, 2006 from what was described as brain-eating "mean teachers" (lethal human-like creatures) that threatened to literally murder every human on Earth after a vengence attack the mean teachers had performed on his school, but later decided to instead wipe out the whole human race. Kevin had also received some assistance from a group of other kids in his school during this horrific disaster, and had stated himself as the leader of the group. He also gave all of his accomplices some firearms to be used against the mean teachers.
A film adaption based on the events of the Mean Teacher Tragedy, "Intermediate Evil" was released in theaters on May 2, 2008 and was directed by George A. Romero, director of classic zombie films such as "Dawn of the Dead". Romero announced just shortly after the M.T.T. that he would be directing a horror film based on the recent unusual disaster and that production for the film would begin as soon as possible, since it did not take long at all to find cast and crew members.
Personal Traits
Edit
Kevin Santos also goes by his nickname "Super Kevin", and those who know him personally claim that he has the amazing ability to figure out what day of the week a specific date is on. He has revealed this claim to be legit on his defunct YouTube account "SuperKevinSantos", as well as his current YouTube account.
It has also been occasionally revealed that Kevin's now former girlfriend was a real-life extraterrestrial girl named Milk Chan (who goes by the nickname "Super Milk Chan"), who had unexpectedly resigned from their relationship on February 15, 2011 after four years following their final date, which had been motivated to her by the result of too much abnormal isolation.