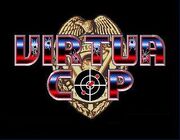 Virtua Cop
is a 1994 action film about two cops from Virtua City, California who must stop a criminal mastermind from taking over the EVL Corporation and stealing the company's valuables worth millions of dollars and prevent them from going bankrupt and forced to shut down operations. A light gun arcade game adaption based on this film was developed by Sega and was released for the Arcade, Sega Saturn and the PC in the Spring of 1994.
Virtua Cop

Directed by

Geoff Burrowes

Produced by

Dennis Shryack
Michael Blodgett

Starring

Paul Walker
Derek Redding
Bruce Willis
Robert Wagner
Jim Brickman

Music by

Ken Morrison

Studio

Amblin Entertainment

Distributed by

Universal Studios

Release Date

March 25, 1994

Running time

110 minutes

Language

English

Followed by
Notes
In honor of the film's 20th anniversary, Virtua Cop was re-released to DVD and Blu-ray Disc in a special 20th Anniversary Edition on September 9, 2014. The bonus material includes a tribute to actor Paul Walker, known for his role as officer Michael Hardy in the film, who died on November 30, 2013 due to injuries sustained in a fatal car crash. The special edition DVD was released to home media on the same day as "Brick Mansions", a film Walker appeared in shortly before his death.